Tuesday, 12 September 2017
Shine bright ...like a diamond
Region's leading designers set to take the city by storm as more than 500 exhibitors prepare to descend of VOD Dubai International Jewellery Show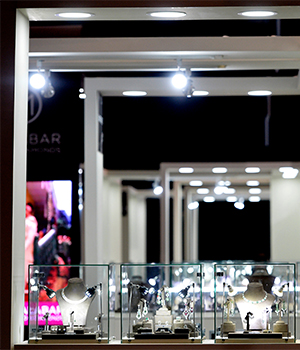 As the region's only consolidated B2B and B2C jewellery event, VOD Dubai International Jewellery Show is preparing to welcome more than 500 regional, local and international exhibitors when its doors open this November at Dubai World Trade Centre.
Travelling from all corners of the globe, exhibitors will have access to more than 23,000 private buyers, collectors and investors from 76 different countries. And with more than US$5.1million worth of sales expected over a four-day event linking all corners of the international jewellery sector supply chain – from international trade organisations and chambers of commerce to wholesalers, manufacturers, traders, retailers and end consumers – Dubai is readying to cement its position as the luminescent capital of the global jewellery industry.
An exhibitor from home shores to look out for is Al Masaood Jewellery, which boasts more than 40 years in the local industry, making it one of the oldest and most-renowned jewellery stores in Abu Dhabi. Founded in 1974, Al Masaood is a stalwart exhibitor at Dubai International Jewellery Week and is bringing its renowned watch and jewellery collections to VOD Dubai International Jewellery Show this year. "At Al Masaood we specialise in splendid and unique types of jewellery, created from diamonds, coloured stones, white gold, natural pearls, coral and semi-precious stones," says Mr Rafif Tarabishi, General Manager of Al Masaood Jewellery. "Furthermore, watches studded with precious stones of different styles, cuts, carats and colours prove to be some of our most distinct and loved pieces, and will be displayed at our booth during the Middle East's premiere jewellery event."
Visitors will be able to feast their eyes (and wallets) on creations from leading global watch names including both Motion and Al Masaood's own private label, Fantasma, while collections from American label Sutra, British brand HOF and the Swiss Hodel pearls will also be on show.
"Each item is always the most up-to-date and of the highest quality, based on the latest styles and trends that suit the different personality of our perspective clients," adds Tarabishi. "We guarantee that both locals, international visitors and retailers will be captivated by our exquisite collections."
Another highly-anticipated exhibitor at VOD Dubai International Jewellery Show is Azar Gems - a Lebanon-based jeweller renowned for its experienced goldsmiths and bespoke work with platinum and gold, as well as brilliant-cut diamonds, precious, semi-precious and coloured stones.
Debuting new and exciting collections annually, its mix of both modern and traditional jewellery is a hit with local and international clientele alike, with Vice President Rida Azar explaining how "the Lebanese are well-known masters of craftsmanship and avant-garde design. We always see a huge interest in our jewellery from the Middle Eastern and African markets."
"We see VOD Dubai International Jewellery Show as a very important exhibition for us," adds Azar. "This exhibition is the perfect platform to introduce existing clients to new collections and simultaneously develop new customer bases."
And don't forget to look out for Renee Jewellers, which was founded in 1999 by Mr Neeraj Jain, a graduate in Jewellery Arts from the prestigious Gemological Institute of America, Santa Monica, and Ms. Subhra Sen, a leading jewellery designer with more than two decades of experience in both India and the Middle East. Sitting firmly among the industry's top suppliers and manufacturers of the country's one-of-a-kind investment and couture pieces, expect fabulous, timeless designs adorning hand-picked diamonds from the world's leading suppliers.